The Partners Group iPad Bulletin App enables employees of Partners Group to securely access key product figures, contact information, documents, reports, presentations and videos in the areas products, investments and corporate information. The solution is used in the context of investor and customer meetings and for improving internal communication and information distribution.
Information on the go – even offline
The solution is 100% offline capable for achieving optimal performance and usability if network connectivity is not available. This guarantees convincing presentations for customer and investor meetings.
Automated synchronization
Data synchronization is performed without user interaction transparently in the background over Wi-Fi and guarantees a download even when the user has terminated the App or the Wi-Fi connection is interrupted. If new or updated data is available, the back end server notifies the iPad devices though the Apple Push Message Service and a synchronization will be triggered in the background, synchronizing the new and changed data on the device.
This functionality is used to update the iPad devices of the employees during the night, so that in the morning the complete set of information is available on the device for travel or customer meetings.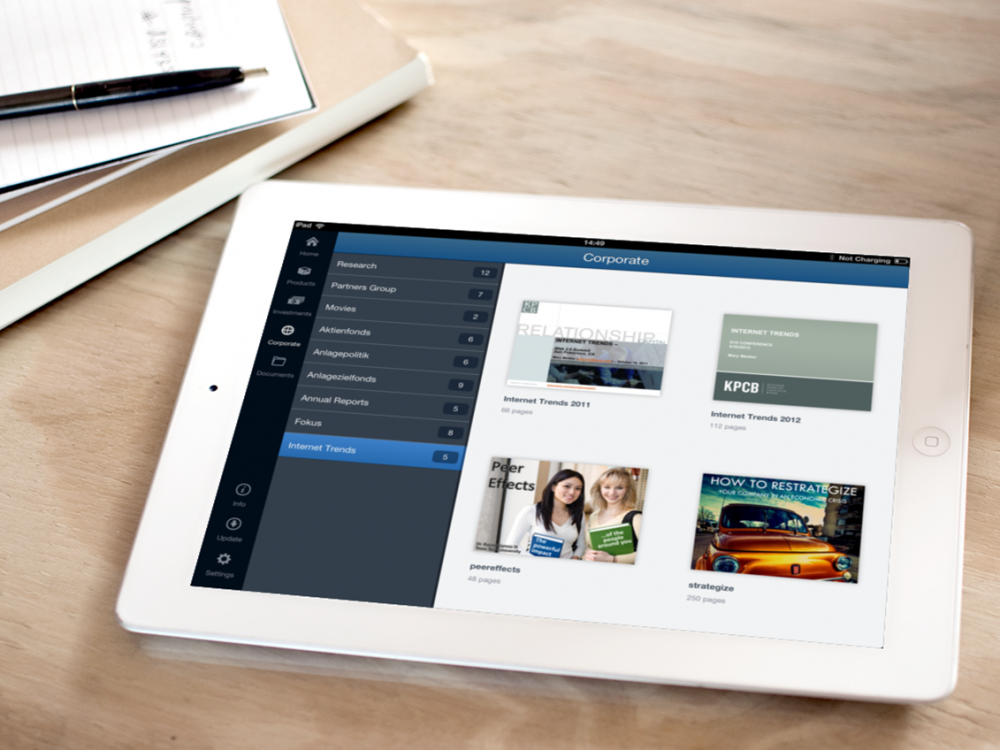 Conference functionality
The «Conference Functionality» enables the presentation of all content, available on the platform by a presenter, to one ore more viewers in a conference setting. The viewers are actively guided by the presenter through the presentation, the content sharing is performed intelligently with smooth transitions between individual views without showing the navigation of the presenter.
Inclusion of personal documents
The Platform allows the inclusion of personal documents with the «Open With» in the App (e.g. a pitch deck for a meeting). These can be distributed locally to all viewers in the conference and can be included alongside all other available content on the platform.
Extendability and configuration
The solution is extremely flexible. The contents and the presentation of the information can be completely adapted to the respective needs on the backend server. In addition to the backend connection to the CargoServer ›, interfaces to Microsoft Sharepoint and other DMSs are also possible.
23. August 2013