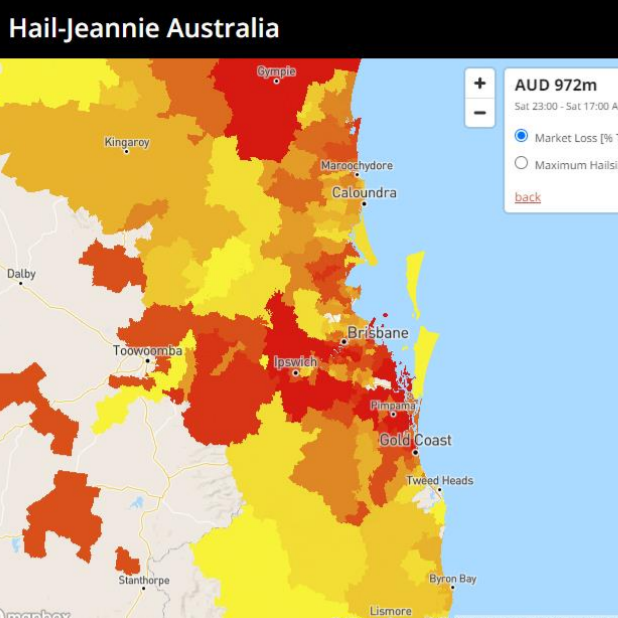 PERILS today announced the launch of a new platform that provides real-time loss estimates for hailstorms in Australia
In addition, enhanced features of the current Wind Jeannie loss forecast platforms for Europe and Australia were announced. All forecasts can now also be accessed and explored directly through interactive GIS maps.
PERILS is an independent organization based in Zurich that provides industry-wide natural catastrophe exposure and loss data. Its Industry Exposure & Loss Database contains information on insured amounts and loss events at the CRESTA zone level.
Hail-Jeannie: Launch of new platform for real-time hailstorm damage estimates in Australia
The new loss estimates tool "Hail-Jeannie Australia" provides the insurance industry with real-time information on estimated hail sizes and losses from severe hail storms in Australia. Hail-Jeannie uses weather radar data to model market losses for the last six hours to produce a real-time loss estimate. This information is updated every six hours and is available around the clock.
Evolution of the "Wind Jeannie" platform
PERILS has also updated the Wind Jeannie platforms for Europe and Australia. Highlights of the enhanced features include advanced forecast animations of approaching storms and detailed interactive Web GIS maps for evaluating loss forecasts. Loss forecasts are continuously updated in real time every 12 hours. In addition, a wind jeannie platform for Florida hurricanes is currently under development.
Hail Jeannie and Wind Jeannie
The forecast platforms are available for registered users.
Further information about PERILS is available at the PERILS Web Site ›.