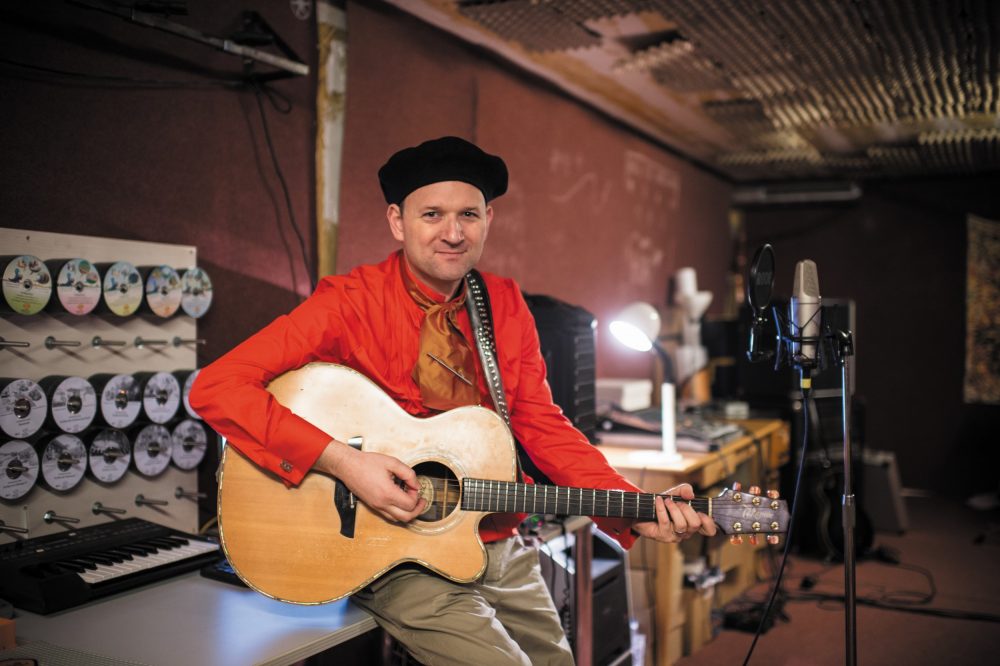 Our Senior Software Engineer Andri Krämer uses his creativity for our customers' software projects and – with just as much dedication – for music and children's stories. An exciting combination of two worlds that surprisingly complement each other. Recently, he also launched an app called Gschichtefritz. Reason enough for us to take a look behind the scenes and ask a few questions.
For those who don't know the Gschichtefritz yet: Who is he and what does he do?
«My alter ego, with whom I have been writing Swiss German audio stories for children and recording songs in my own practice room with studio since my paternity leave 12 years ago. The stories are aimed at children from about 3 to 11 years old, but even the youngest and adults have already shown and expressed their joy.
On www.gschichtefritz.ch you can order the stories of «Blauer Dino» and «Roboter Beni» with personal dedication and for voluntary payment on CD or as mp3.»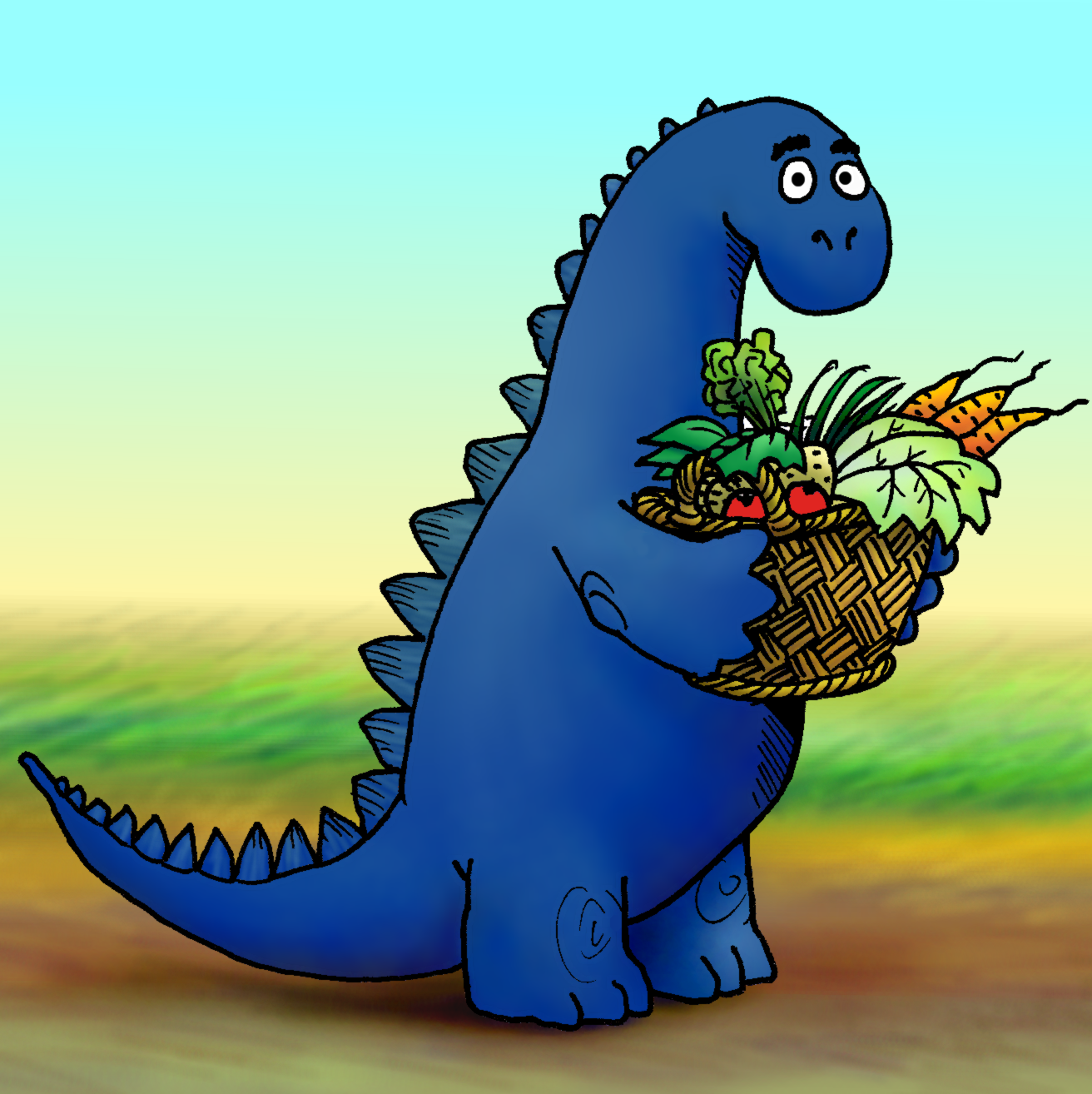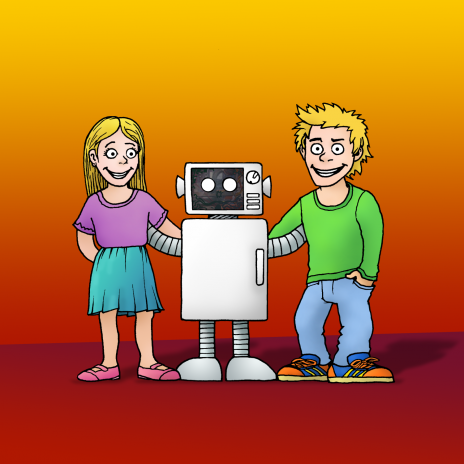 How do you manage to find the balance between family, your work at mp technology and time for yourself and the Gschichtefritz?
«With part-time opportunities, extended paternity leave and great team colleagues, it's relatively easy at mp technology in terms of work and family. My band life on stage was more difficult to reconcile with my family. But I couldn't do without music either. So I came up with a compromise that combined all facets of my life and my passion for music – the Gschichtefritz. He's part of the family now, too. My children are soon out of the stories age, but they support me whenever they feel like it 😉»
At first glance, your role as Gschichtefritz and your work as a senior software engineer are two very different jobs. Are there any parallels and interfaces?
«There are a few! For example, my motivation with both lies in doing and seeing successes. And with both jobs I learn a lot, gain experience and get inspired for the other job. The flat hierarchy at mp technology gives me insights into the commercial side of things, which gives me a good feeling for questions like «Is the effort worth the return?». Especially when you build your product on voluntary payments like the Gschichtefritz, this is an essential question. As Gschichtefritz, on the other hand, I get to know all segments of a company, since I pretty much handle everything with my two hands. This leads to an understanding of corporate thinking and each individual's respective contribution.»
What do your teammates think of the Gschichtefritz?
«My teammates do everything they can to give me the time and resources to do my job as Gschichtefritz. For example, they hold the fort for me when I have gigs and support me with technical questions about my apps and my website. Since many in the team also have children, I get a lot of inspiration and great ideas. I really appreciate the great support in the team and it motivates me both at mp technology and in the Gschichtefritz studio at work.»
Who are your products aimed at? What exactly do you offer children?
«My customers are not only children. For example, I offer parents peace of mind while driving, schools pedagogically valuable performances, playgroups a nice idea as a farewell gift or gifts with personal dedication from Göttis and Gottis. The list is long, actually for everyone who knows or works with children and who understand or want to learn Swiss German.
In the meantime, there are 67 audio stories, a song CD, a 44-page song booklet, stickers, coasters and coloring sheets with the wonderful story covers drawn by Reto Lamprecht, two self-programmed Gschichtefritz games in the AppStore and, most recently, the Gschichtefritz Player App.»
And what is there an app for?
«Because I'm a software engineer and there needs to be an app for everything 😊»
Sure – and seriously?
«12 years ago I was ahead of the curve with MP3 downloads personalized down to the artwork. By now, people have gotten used to streaming. Downloading, archiving and copying MP3 files around seems laborious and also overwhelms many. However, I consider streaming to be unsuitable for children and wanted to build a new solution that does not require a permanent internet connection and thus works without problems even when on the road, in the car or on vacation. Thought, done. With the support of my team colleagues, all ordered stories can now be downloaded on Android and iOS with the «Gschichtefritz App» and make children's hearts beat faster at any time. I counted more than 700 app installations and more than 10'000 story downloads within a few weeks and am happy that many stories that were probably long lost on scratched CDs in the children's room are suddenly heard and loved from new again.»
How do you finance the production and distribution?
«All the songs and stuff listed above are available for voluntary payment as you see fit. This makes them affordable for every family. All without advertising in the products, in the mailings or on the website and without sponsoring by companies. For this I would like to thank all our customers. Because without their fair appreciation it would never have come this far. Thank you to everyone who motivated me to keep going with voluntary deposits and nice comments.»
Anything else you'd like to say in closing?
«I'm glad that performances can now be held as planned again instead of just being postponed or canceled. Digital streaming performances are no comparison to real performances – and I say that as a computer scientist for whom video conferencing was part of everyday life even before the pandemic. My schoolhouse tour with over 30 performances just ended and was a great joy for the kindergarteners, students, teachers and for me. Let us take care and hope that it can continue for a long time.»
More about the Gschichtefritz and app download
www.gschichtefritz.ch | Facebook | Instagram | Youtube Channel